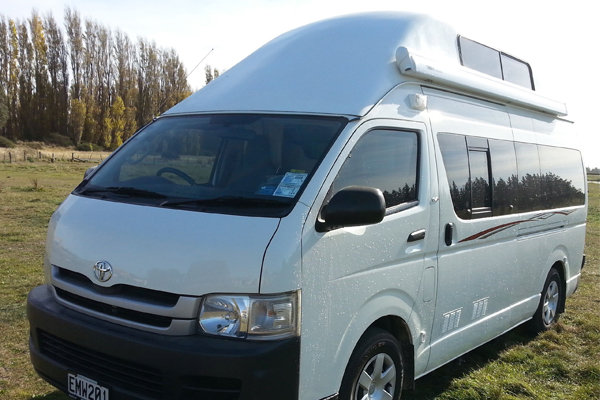 Economical Turbo Diesel engine
Interior Height 1.8 metres
Our deluxe campervans are factory-built Toyota Hiace Hitop Campers which are extremely reliable and comfortable to drive. The deluxe camper is an extended Toyota Hiace with a large lower bed (converts from the seating area), a pull-out upper bed, and seating for up to 5 people. It is generally recommended for 2 adults and 2 children (upper bed is rated for approx 100kgs).  There are 3 seats across the front (middle seat has lapbelt only), and 2 seats (with diagonal seatbelts) in the very rear.
Additional Features:
Air conditioned cab.
Larger interior and exterior.
Awning available
Pumped cold water system
2 burner gas hob
12 v fridge with freezer compartment
Powersteering
Large queen-size bed downstairs (converts from sitting area)
pull-out upper double bed (over the living area) for 2 small adults or 2 children
Our campervans include:
24 hr AA roadside assistance
Radio
Spare tyre, jack and wheelbrace
Fully equipped for cooking and sleeping
Touring maps
portapottie toilet facility
USB charging ports in the rear
For more detailed information, view the Equipment page.