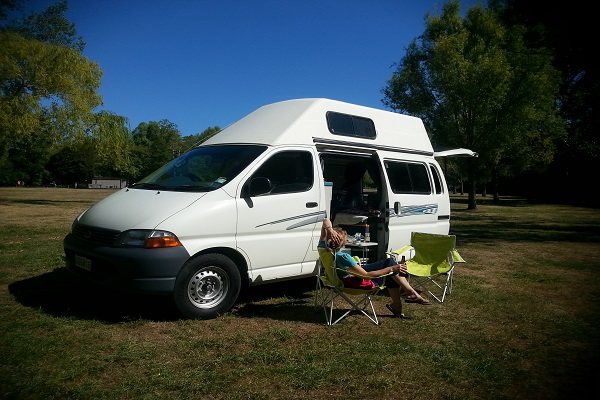 Standard Hi-top Campervan
2.4 or 2.7 litre petrol engine
5 Speed Manual Transmission
Our 2 berth Standard Hitop Campervan is a comfortable and reliable Toyota Hiace van. It includes sleeping for 2 adults, with the rear seats converting to a comfortable double bed at night. Storage is provided under the bed.
Some vans are 2+1 berth, and have a pull out overhead bunk suited for a child or small adult (up to 50kgs). The 3rd seat is located in the front, between the driver and passenger, and has a lapbelt only.  Please specify at the time of booking if you wish a 2+1 berth.
These vehicles are certified self contained and can be used for freedom camping in areas that allow it.
All our standard campervans include:
Self-containment certification
Radio with CD
Comfortable seating and sleeping for 2
Spare tyre, jack and wheel brace
Fully equipped for cooking and sleeping, including linen with extra blanket
Picnic table and chairs
Map Book
Portapottie facility
USB Charging port in the rear
Dual batteries (engine and house)
12v fridge
2 burner gas hob
For more detailed information, view the Equipment page.